THE CRASH!
(Autographed visual is from the personal collection of Impact founder, M.D. Braxton)
"a private showing for fans of the sport"
June 10, 2000 ELKHART LAKE, WISCONSIN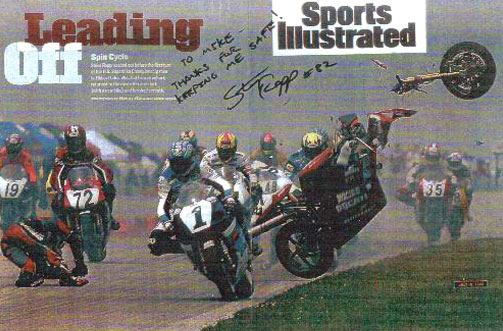 STEVE RAPP WAS NOT WEARING YOUR TYPCIAL BACK PROTECTOR!
Vance & Hines Ducati Factory rider, STEVE RAPP, crashed spectacularly at over 100mph before a National Television Audience. Steve, whose crash made the JULY issue of Sports illustrated (see above), was wearing our latest Back & Chest Protection system at the time.
During the crash, Steve was slammed violently to the pavement on his back and sent tumbling and sliding approximately 50 yards. Before coming to a stop, Steve hopped to his feet and ran back to the pits for his back up motorcycle. Steve not only finished a credible 7th by race end, but was able to compete THE NEXT DAY without suffering any ill effects of the crash!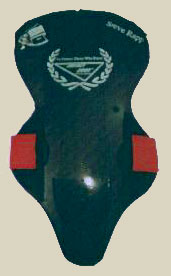 Steve's Back Protector of choice on that faithful day B-000!!